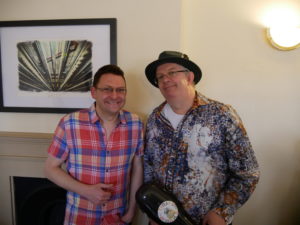 During The Grand Northern Ukulele Festival aka GNUF I had a brief chat to Andy Eastwood. I suggested to him that with respect he reminded me of "an old fashioned entertainer" and he replied "Yes, how come there's not a lot more of that around these days?"
I confess to never being a fan of George Formby, but I was totally blown away by Andy's workshops and his stage performance. Here was a genuine entertainer who wonderfully engaged the audience and clearly had perfected his craft. Yes he was technically brilliant on ukulele, banjo and violin, BUT crucially he was able to interact with the audience and give them a magical experience. This is the hallmark of a true entertainer and give me one of those above anyone who is technically brilliant, but lacks this aspect.
I have frequently blogged about the need for musical events to evolve and continue to attract/engage audiences. The same principals apply and in this internet era people are easily bored. On social media one individual was questioning the stage times at GNUF of being 20 – 25 minutes, suggesting it in his view might be a great deal longer. I pointed out that this exact formula made GNUF different to the standard festivals, GNUF had been successfully running for 5 years, they have over 50 artists in one weekend (many times anyone else) and over 100 artists were declined due to performer demand. This is a winning formula and "That's entertainment" Over the week I met some amazing performers who have also become good friends including Alan and Terri Thornton, Katy Vernon and Matt Hicks. All these folks are genuine entertainers and gave great performances at GNUF.
In these uncertain times, IMO we all need the best entertainment we can find and I applaud any artists striving to entertain the public regardless of whether this is to my own personal taste. I also hear that this year will be the very last for the Cheltenham Ukulele Festival. Anyone who runs an event for eight years reserves recognition, but as Bob Dylan would say "The Times they are a Changing" and inevitably new events will appear and existing festivals will evolve. Let me also be clear without doubt that festival has provided many with excellent entertainment for many years and kicked off a festival uke trend in the UK
On planet earth in many ways and my hope is that platforms like The Original Ukulele Songs initiative will support and encourage original artists that seek to entertain the public.