I now have 4 fully mastered and mixed tracks for "Tales of Dark and Light" and I'm really happy with the recordings to date.
The tracks are
Dunning Kruger Blues
Here in the silence
No more street parties
He's shooting blanks
I'll be back in the studio mid January to record a fifth track "When the pain begins"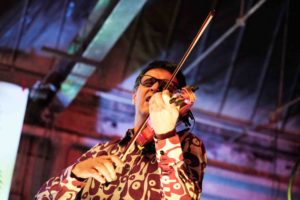 This is a very different project to the Small Change Diaries material, although Adrian Knowles and Rich Ferdi feature on some tracks. The extraordinary Laurent Zeller plays on the above tracks, but the final track is only going to be piano and vocal.
The material is a lot darker than SCD material, and although I use the ukulele as a writing tool, the ukulele doesn't really feature in the final recordings. The sound is much more piano, double bass and violin based. Carl Rosamond is once again the producer. I'm working with a number of other new musicians for the first time and each one adds a different dynamic to the material.
The opening track "Dunning Kruger Blues" was written after some exchanges on social media and reminds me greatly of Becker/Fagen Steely Dan material
Dunning Kruger Blues (Nick Cody)
King of the tiny island, no bigger than a hill,
Centre of attention, is how he gets his thrills
Two fake Rolex, one on each arm
Listened to Elvis, but never got the charm
David and Justin got a Nobel prize,
Some understood, others rolled their eyes,
A New pecking order is now coming through
Bet your wondering if this songs 'bout you….
Chorus
Ladies, gentlemen, it's not the best news,
Welcome to the Dunning Kruger blues,
Ladies, gentlemen, it's not the best news….
Welcome to the Dunning Kruger blues…
Bridge
Waspie women and the yummy mums,
Got the king's number, done the sums,
But nothings really adding up so far,
He's convinced he's some kind of star…
Teenage kids just as bad,
All the smiling, covers up the true sad,
This dam of tears is about to break,
A parental vice, she just can't shake
Chorus
Ladies, gentlemen, it's not the best news
Welcome to the Dunning Kruger blues,
Ladies, gentlemen, it's not the best news,
Welcome to the Dunning Kruger blues…
Ladies, gentlemen, it's not the best news,
Welcome to the Dunning Kruger blues…
I'll be playing some of this material live in the USA and the UK, before releasing the EP as a physical product as well as in digital format