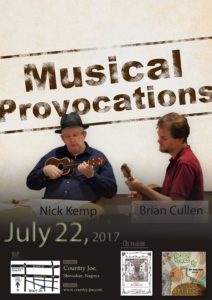 Next month I am delighted to be playing in Japan. This is a country I truly love, with great people, great music and terrific instruments.
This will be ny 16th trip there and I never get tired of visiting. I'll be with my good friend Brian Cullen playing
Country Joe's 2 Chome-8-9 Shinsakae, Naka-ku, Nagoya-shi, Aichi, Japan 460-0007 on July 22nd at 8pm.
This is a small club, so we advise getting there early. We promise a great provocative evening of great acoustic music and original songs. This will be the first OUS outing in Japan and my plan is to have many more in this wonderful country
There's a FB event page here – https://www.facebook.com/events/775084982673519/?acontext=%7B%22ref%22%3A%2222%22%2C%22feed_story_type%22%3A%2222%22%2C%22action_history%22%3A%22null%22%7D&pnref=story
This will be an opportunity to play some classic Small Change Diaries tracks as well as some material off the 2018 solo release for the first time.
Brian is a terrific artist in his own right and plays a variety of instruments including mandolin, guitar and ukulele, He writes terrific songs that stick in your head. We have jammed together during my Japanese trips but this will be the first time we have played an actual gig.
I'll be travelling light with a Rob Collings purple heart tenor and any other instruments I pick up on route! Its going to be a great night out and I welcome all Japanese friends and fellow musicians to come and join us!